Films & TV
Television
GoT Puppets "Pilot"
The Guild of Thespian Puppets are currently shopping around the TV show pilot for their adult sketch comedy show.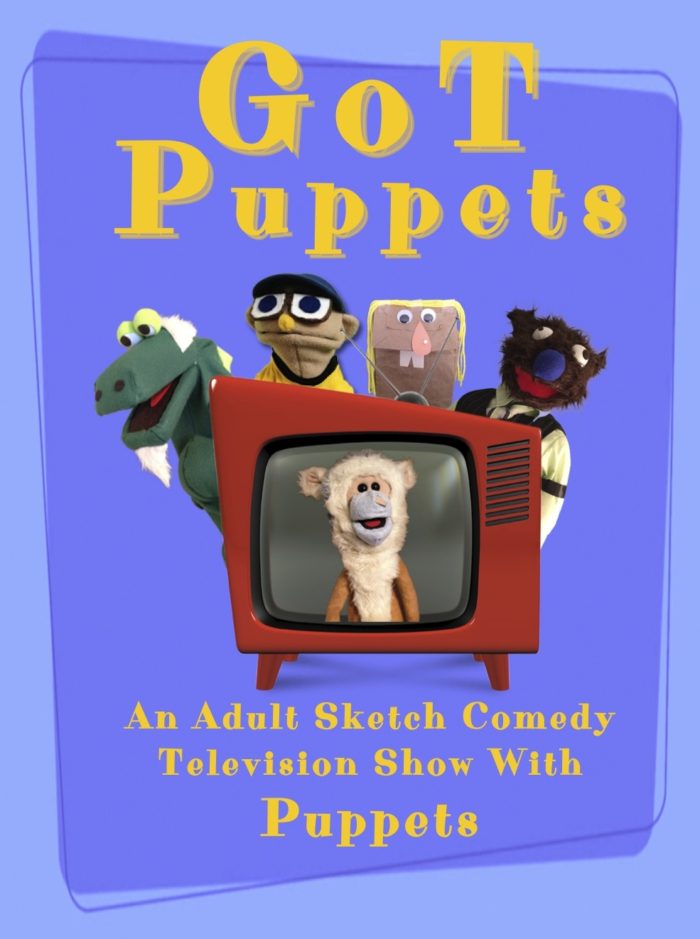 The Guild of Thespian Puppets or GoT Puppets, are trying to become famous. Through a series of comedy sketches the puppets will try a new scheme to achieve notoriety in each episode of the series. However, they always seem to come up short and end up stuck making a living doing what puppets do best, putting on shows for children. GoT Puppets is a sketch comedy show for adults.
Hamlet the Monkey is a dreamer and has big plans for the puppets and he is going to make them famous. Unfortunately, sometimes it's like herding cats. Dickens the Cat, the self-centered, opinionated puppet with a British accent, will never hesitate to tell Hamlet an opposing view. Clemens the Alligator is more interested in finding time to take a nap rather than helping with Hamlet's goal. Even puppet manager Barry Plumpit is so completely out of touch with reality that he never ends up being helpful. There are a plethora of other puppets from The Guild who seem to offer even more obstacles to achieving Hamlet's dream.
In each episode the puppets will focus on one specific theme, which will hopefully lead to their fame, whether it's in television, movies, radio, online, and so on. These artistic or business pursuits that make up the theme will be tied together by a collection of comedy sketches. Plus, being puppets and because they just can't help it, there's usually at least one musical number per show. Hamlet the Monkey has got a lot of big dreams and most importantly he's GoT Puppets.
Please contact us for more information.
---
A Christmas Carol
The Guild of Thespian Puppets just completed their version of the Charles Dickens classic A Christmas Carol. More to come…
Please contact us for more information.
---
Film
The Guild of Thespian Puppets Save Christmas
Christmas is in danger and it is up to The Guild of Thespian Puppets to save it in this short film by Michael Patrei.
On Christmas Eve, Santa is all set to visit the orphans when he is accidentally eaten by Nancy the Shark.
It is up to Hamlet the Monkey and the other puppets to journey inside the belly of the shark and bring back Santa and save Christmas.
This delightful Christmas special is perfect for all ages and features stunning set design by Melissa Lopez along with original and traditional Christmas music by Brian Premo and Roger B Smith. The Guild of Thespian Puppets puppeteers are Alexandria Compo, Garrett Ingraham, Douglas Keyes, Gregory Scott Mirell, Justin Parker, Michael Patrei, and Nicholas Patrei. The puppets are joined by human actors Catherine Hood, Gary Hood, and Mike Cecconi.
---
 Amiko Blue and The Treasure of Atlantis
The Guild of Thespian Puppets are featured in this short film by Michael Patrei. In this film, Chester B. Arthur has an imaginary friend named Amiko Blue who is a super-hero. With the help of some puppets from The Guild of Thespian Puppets, Chester and Amiko set out to find the lost treasure of Atlantis.
Presented in glorious TechAcolor, Amiko Blue & the Treasure of Atlantis is filled with adventure, imagination, and puppets.